Master Plan Communications
---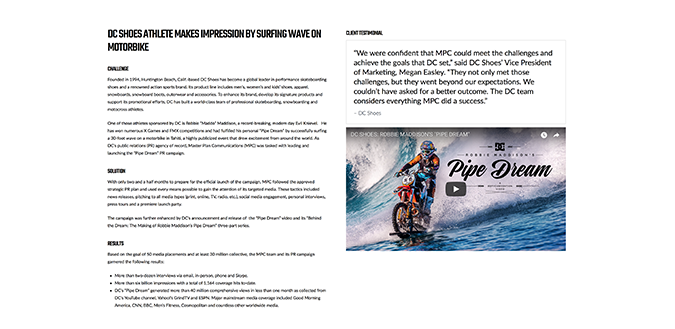 ---
"Nick Macedo and his Create Beast are an incredible web design, branding and graphic design firm.  They are true experts, and I have worked with them on many successful projects over the years.  From concept to completion, Create Beast delivers strong results on time."
– Ashton Maxfield, Founder & Managing Director
Services
 One-Page Experience Design
 Messaging Development
 Strategy Development
 Responsive Web Design
Sortable Case Studies
 Wireframing
Needs
Master Plan Communications has been a long time client of our graphic design services and has used our web design services to many of their clients. So when they needed to re-design their own website, we were only a call away. What they needed was for the website to have an updated look while appealing to their 3 (completely different) target industries. They needed the site to showcase their nationwide presence, services, and showcase case studies that were sortable by industry so new clients could visit the site and zero in on information that pertained specifically to their industry.
Solutions
The challenge then was how to you appeal to 3 unique industries– tech, supply chain manufacturing, and action sports? In this case, the messaging was the easy part. Providing headlines that explain the services offered and the industries they specialize in was a no brainer. The larger job to tackle was finding imagery that would feel familiar to each industry without alienating the others. Great time was spent researching the images currently associated with each industry in order to find common threads. Take, for example, the home banner rail tracks imagery - Trains and subways are riddled with tech (think travel apps, fast moving information, etc), they are a vital part of the manufacturing chain, and they familiar to action sports (think skateboarding in downtown settings). The strategy has proved fruitful as Master Plan Communications was able to showcase their website at a variety of different trade shows for each industry. Their site has become an important piece of the puzzle for their business growth in the new year. And the custom, Schedule Now call to action has been helpful in converting some of that new interest into new business. 
---
Need a website your audience responds to?
---
GET STARTED